Auxiliaris for Haiti
A Group Show highlighting the catastrophic earthquake in Haiti
Photographers Andrés Leighton (Associated Press), Alvin J. Baez (El Vocero), José Jiménez Tirado (Auxiliaris), Frank Elias, Ramon Tonito Zayas (El Nuevo Día), Ricardo Arduengo (Associated Press) and Xavier Araujo (El Nuevo Dia), traveled to Haiti to document the tragic earthquake that devastated Port-au-Prince on January 12, 2010.
As they covered the catastrophe, each photographer agreed to support a handful of orphanages overwhelmed by so much need. From this experience, the exhibition "Auxiliaries for Haiti" was born. It was first presented at the Puerto Rico Museum of Contemporary Art on February 25, 2010 with a mission to raise funds for the Foundation Enfants Jesus asylum.
During the last two years it has since been exhibited throughout the island, in coordination with other charitable efforts, raising awareness in terms of Haiti's continuous need of humanitarian assistance.
Opens: August 30, 2012 @ 7pm
Location: La Respuesta
1600 Ave. Fernandez Juncos,
esq. Calle Del Parque,
Santurce, Puerto Rico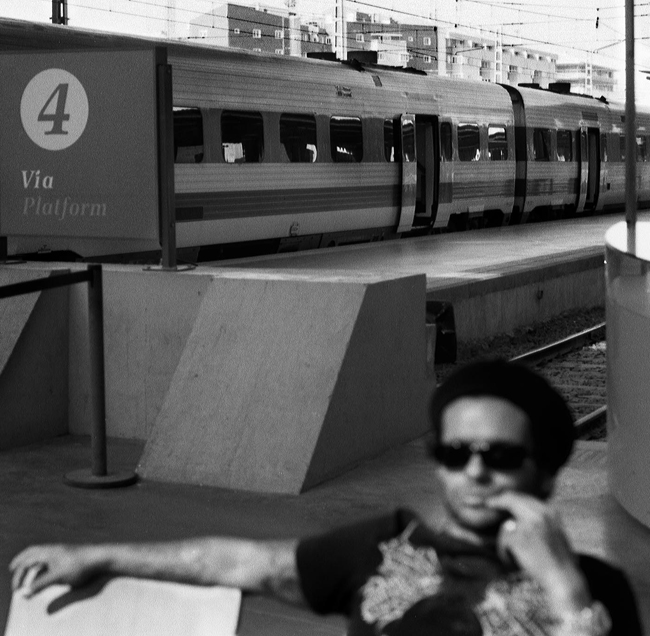 Casual Thinking
Featuring the work of Jay García
Casual Thinking is a reflection of the way J. Garcia sees and captures random moments of his life. His photography is never staged, but sometimes searched for. He has set out to document the encounters, and moments that have casually stumbled upon him. It reflects not only the way he shoots, it also represents his life, the way he skates, edits and loves. Without much analyzing involved, and running into situations, strangers, and life long friends. It is simply a pure way to go about the things that have inspired him. Inspired by the work of Henri Cartier Bresson, André Kertész, William Eggleston, Alec Soth and Kwaku Alston—this is a collection of images all shot on film while on the move. From skateboarding around the world, touring with Draco Rosa, and living in Los Angeles, CA. J. García tries to share his experiences in their most natural form.
Opens: August 30, 2012 @ 7pm
Location: La Respuesta
1600 Ave. Fernandez Juncos,
esq. Calle Del Parque,
Santurce, Puerto Rico
La Fundación Jorge Ramos Caro le invita a la:
VIII Bienal Internacional de Fotografía de Puerto Rico
Opens: Thursday, Septiembre 6, 2012/ 7:00PM
Museo de las Américas (Cuartel de Ballajá) Sala 3
Exhibition Dates: Septiembre 6 – October 28m 2012
Days & Hours: Tuesday-Sunday from 10am to 4pm.

Artistas participantes: Eduardo Bermúdez García, Tari Beroszi, Rosamary Berríos, Karim Borjas, Lucía Castellano, Abey Charrón, José Charrón, Jorge Chavarria, Salvi Colom, Angel Rafael Figueroa Piñero, Anthony Gamunev, Emiliano Gatica, Manuel González, Víctor Rafael González, Gabriel López Albarrán, Hermanos Lumière, Carmen Mojica, Lorna Otero, Adiela Marie, Luis Francisco Marti, José Martínez Soto, Jorge Ramos Caro, Waleska Rivera, Marisol Roca Vall-Llobera, Ricardo Rodrí- guez, Gretchen Ruiz Ramos, Annie Saldaña, Marisol Villan- ueva, Haydee (Tita) Yordán
Un Saludo a FotoVisura y a la Bienal
Internacional de Fotografía

La Galería Casa Jefferson invita a la exhibición fotográfica, COLECTIVA 20-TÚ, como un saludo al evento FotoVisura, y la VIII Bienal Internacional de Fotografía de Puerto Rico que se celebrará en la isla a partir del mes de septiembre. La exhibición COLECTIVA 20-TÚ será el sábado, 1 de septiembre de 2012, a partir de las 7:00p.m., en la Galería Casa Jefferson, en Santurce.

Un ventetú (20-TÚ) es un término coloquial, un puertorriqueñismo, que significa convocar amistosamente a un evento artístico creativo y espontáneo.

COLECTIVA 20-TÚ contará con veinte fotógrafos puertorriqueños, convocados por invitación. Los fotógrafos participantes son: Haydee Yordán, Farrique Pesquera, Frank Elías, Luis Muñoz, Gretchen Ruíz, Carlos Rubín, Ana Francheska Von, Juan Ibáñez, Abey Charrón, Migdalia Luz, Herminio Rodríguez, María González, Nina Martí, Stephanie Alvelo, Xavier Araujo, Joa Rodríguez, Yolanda Velazquez, Pucho Charrón, Ernesto Robles, Hermanos Lumiere, Michel Collado y Clay Humphrey.

La Galería Casa Jefferson está localizada en la Calle Jefferson #106, en Santurce, a pasos de la emblemática Calle Loíza.
More Posts: