THE DIA EXHIBITION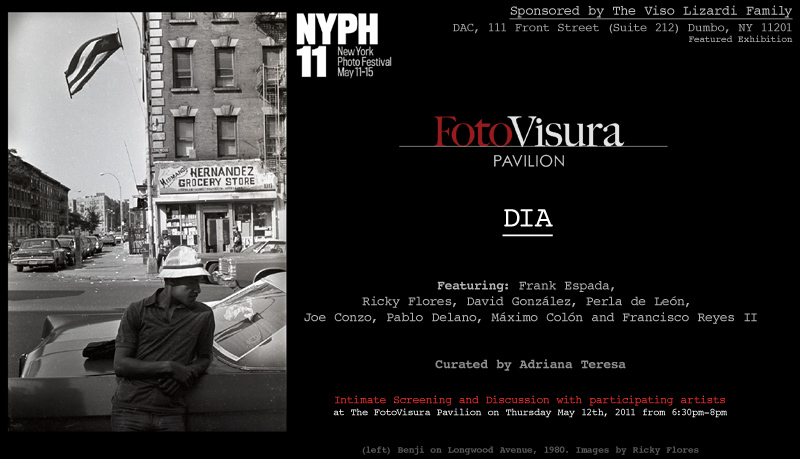 Cuando yo miro tus ojos
parece que miro al cielo
arropado con estrellas
y cubierto con luceros.-
Dia Exhibition unites eight photographers who documented New York's Puerto Rican communities from the Lower East Side to the South Bronx during the 1960's to 1980s. This exhibition features photographers Frank Espada, David González, Ricky Flores, Perla de León, Joe Conzo, Pablo Delano, Francisco Reyes II and Máximo Colón.
Puerto Rican curator Adriana Teresa reflects on the meaning of being Puerto Rican, and challenges the questions of who is Puerto Rican, what makes us Puerto Rican and why we identify as Puerto Rican?
Dia means across, through or apart—in Greek—a metaphor for the emotional agility needed to navigate the churning undercurrents of Puerto Rican identity.  Seeking to transcend boundaries of location, language, and time—this group depicts Puerto Rican life and culture in New York during the rapidly changing decades between the 1960s and 1980s.
This era saw New York's Puerto Rican community grow in numbers as it confronted daunting social and economic problems. Neighborhoods were abandoned and torched, leaders arose from the streets and churches and communities were remade. Flush with the pride and excitement of a home-grown cultural revolution, art and music were found as easily on the street as in the concert hall or museum. Even in this turbulent social era, new artistic alliances were forged between downtown hotshots and Boogie Down homeboys in places whose futures seemed buried in rubble. 
The chronicle of this Puerto Rican community in New York also depicted as Nuyorican—a term whose derogatory intent has turned on its head—was compiled from the archives of six Puerto Rican men and one woman, who each stood behind the lens to document every day life in their communities in New York. 
Frank Espada

 stuck to his principles. He documented the joys and pains found in El Barrio and beyond, but always in a way that kept dignity intact. 

Perla de León

documented the neighborhood in the Bronx where she taught, which was abandoned, desolate, and burned.

Ricky Flores

 memorializes friends from the block who died painfully young, at a time when the city did little to keep them alive. 

David Gonzalez

 roamed from the relative calm of Fordham Road down to the mayhem of Mott Haven, intent on shooting images of ordinary life amid broken streetscapes.  

Joe Conzo

 was there at the birth—several times over. In high school, he photographed local musical heroes. Later he took to the streets as protesters challenged Hollywood's facile treatment of the area in films that were little more than fantasies from fevered minds. 

Pablo Delano

 had recently moved to New York when he began what was to be his first photographic project. Conscious of the negative stereotypes that were used to portray the Lower East Side and also the Puerto Rican community in NYC, Delano purposely took beautifully evocative yet thought-provoking images of life in and around an after school arts center for children on East 4th St. between Ave C and D where he was employed.   

Máximo Colón's

lovingly candid portraits of Puerto Rican dancers, poets, photographers, musicians and neighbors defied the down-and-out stereotypes that abounded elsewhere. 

Francisco Reyes II

 captured people re-claiming urban spaces and identities within New York's Puerto Rican community during the mid 70s.    
La isla or the island refers to Puerto Rico, but it can also be the island of Manhattan or Orchard Beach in the Bronx. From this groups perspective, ultimately, we negotiate our meaning of being Puerto Rican and it has nothing to do with where we live. Being Puerto Rican is a sense of heritage, belonging, shared pride and history.  The show is not definitive, but it is resolute in its purpose to show the other side of the other island, the one where La Isla beats in the hearts of these Puerto Rican photographers, even when they stood in the shadows of tenements from Loisaida to the South Bronx. We are voluntary exiles en nuestra isla.
Al morirme que me entierren 
en la isla que nací, 
que quiero darle a mi isla
lo que ella me ha dado a mí.


Sponsored by Federico José Hernández, Founder/ Producer of Taste of Rums. 
Side note from the Curator
I am Puerto Rican. Why? Because this is how I feel. This feeling is filled with contradictions, and I assume them all. For it takes that I be at odds with myself in front of everyone to show, that being Puerto Rican, just like being American or French or Lebanese is a feeling that although filled with contradictory nuances, it is real.
Since 2004, I am a voluntary exile of Puerto Rico, were I was born and raised and where my family—aside from my husband and his family, who I have adopted as my own—lives. I had to leave Puerto Rico, even if nobody made me leave. Just like I only use my first and middle name as my carte-de-visite to transcend the boundaries of nationalism, I too will always feel and be proud to say that I am Puerto Rican...In every step that I take towards breaking free from prejudices and stereotypes with condescending intentions to depict being Puerto Rican, Nuyorican or any other "...ican" for that matter, I take one even longer step towards expressing how proud I am to be me.
—Adriana Teresa Letorney Hernández Denton Hernández Cestero Ramos Morales Reyes
Lyrics to this Bomba song, translated by Lyn Domínguez:
Cuando yo miro tus ojos
parece que miro al cielo
arropado con estrellas
y cubierto con luceros.

When I look into your eyes
It is as if I see the heavens
Wrapped in stars
And covered with splendor.



Al morirme que me entierren
en la isla que nací,
que quiero darle a mi isla
lo que ella me ha dado a mí.



When I die let them bury me
In the island where I was born,
For I want to give my island
What she has given me.
« BACK